Puppies from the past who are now living with their forever families......

Quentin

Hi Tommie:

Here are some recent pictures of Quentin. He is doing great. He went to the Vet. on Saturday and the Vet. said he is very healthy, happy, social, and has a great personality. He weighs 13.4 lbs., he loves going for rides, he has a best friend named Porkchop (English Bulldog), he likes to watch movies with us, and he is completely house trained. In a couple of weeks he is going to start puppy training. Have a great night,

Rafael and Ester 

He now weighs 20.4 lbs. (8-23-07)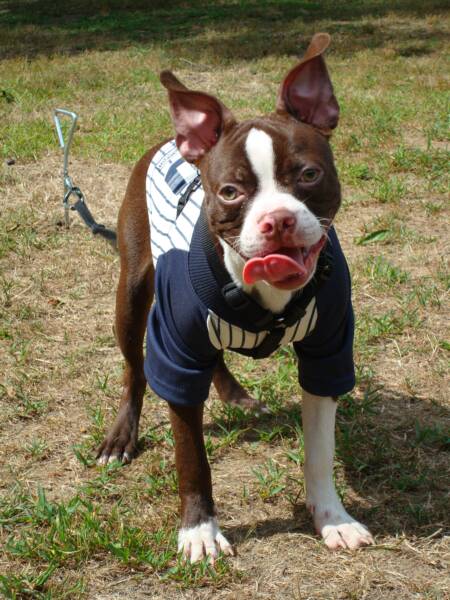 Hello, Yes we did just purchase Murphey about two weeks ago, and we could not be happier with both the pup and the entire process of dealing with 

Tommie. Believe me, we had the same reservations at first about buying a pup 

online and from another state. After numerous emails and telephone 

conversations with Tommie, all of our fears were put to rest. She was extremely knowledgeable and it was clear that she has a true love and passion for her animals.

The shipping and recieving of Murph was far eaiser than I even 

anticipated. His flight confirmation was sent to us by Tommie, he arrived in a 

kennel with food and water for him to have during his travel and an extra bag 

of food so we could mix it with the food that we had bought for him to 

ease any stomach upset due to switching food. You simply go to baggage claim and to the office associated with the airline, sign one form and you are on 

your way.

As far as the puppy, he was extremely well socialized and has a 

wonderful personality! He is the hit of the neighborhood and loves every dog and person that he meets. I am sure his brother will have a similar 

demeanor.

Hi Tommie! Murphey is adjusting to NJ pretty well. He has been difficult at night, definitely doesn't like the crate. Aside from that, he is wonderful and a hit in the neighborhood, all the kids love him. We took him to the vet. Everything went well. Thanks for the follow up, we apologize for the delay in getting back to you...we have been busy and sleep deprived. :) Thanks again, STEVE and MARIA P.S.---Funny story...When Steve picked him up from the airport, he examined the crate only to find that Murphey had strategically pooped in his water bowl! We thought that was funny.

Hi Tommie, We haven't sent you an update in a while. Just wanted to send you a few recent pictures of Murphey. He is doing wonderfully! He is a very

active little guy. Lots of fun. He has such a loving personality.

Steve and Maria Calvery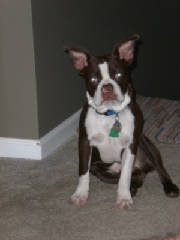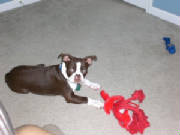 Hi Tommie,

I just wanted to drop you a note to let you know just how much we love our Boston Terrier, Spicy. She is the most loving, playful, adorable dog we've ever had. She is a tiny ball of energy and her only enemies seem to be the squirrels in the yard that she just can't figure out. Everyone who meets her instantly falls in love with her. As you can see from the pictures, she's gotten quite a bit bigger – she's about 9 pounds. We are considering getting her a companion and look forward to seeing your latest Boston Terrier litter. We can't thank you enough for giving us such a wonderful dog!

Amanda  in MA         June 2007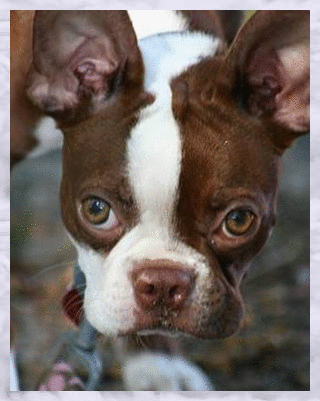 Hi Tommie,

So sorry it took so long to get you pictures of Domino. We are beyond happy with him, he is the best dog ever!! We can't imagine our life without him. We want another pup by the same parents, please let us know when Cherri and Charlie Brown have another litter.

Thanks..you are the best breeder ever!!

Love,

Leia  and Domino in NY     June 2007

Tommie,

Sorry its been so long.  Well everything is going well.  Spike (dakota) is getting so big.  Our last visit to the vets he is 9lbs 6 oz.  We are going to start training classes soon.  He is still not completely potty trained yet but it has been so very cold here.  Other than that he is a healthy wild growing little puppy and eveything is great.  Here are a few pics with the family.  Once again thanks for the beautiful puppy.  

Jennifer                                  CAYLEA and CHUCK litter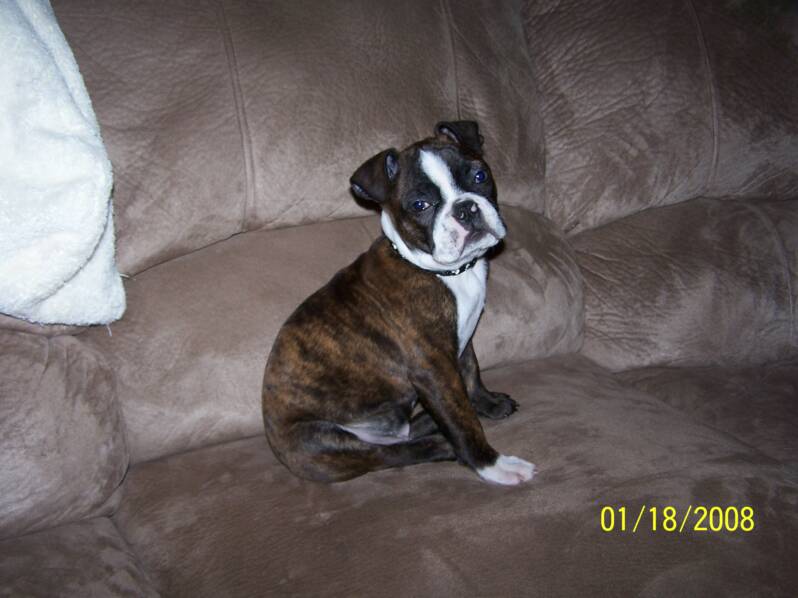 Charlie

at one year of age!!

He is beautiful!!!

He now lives in 

OHIO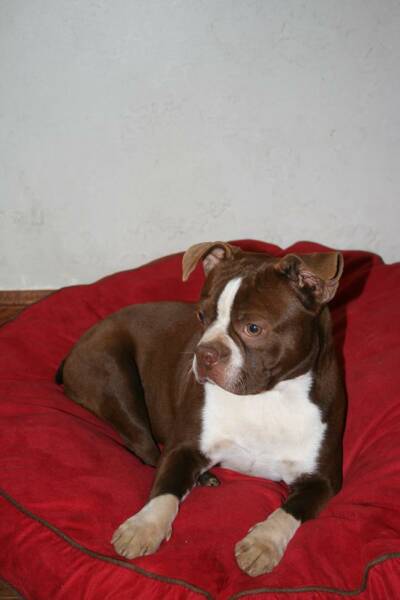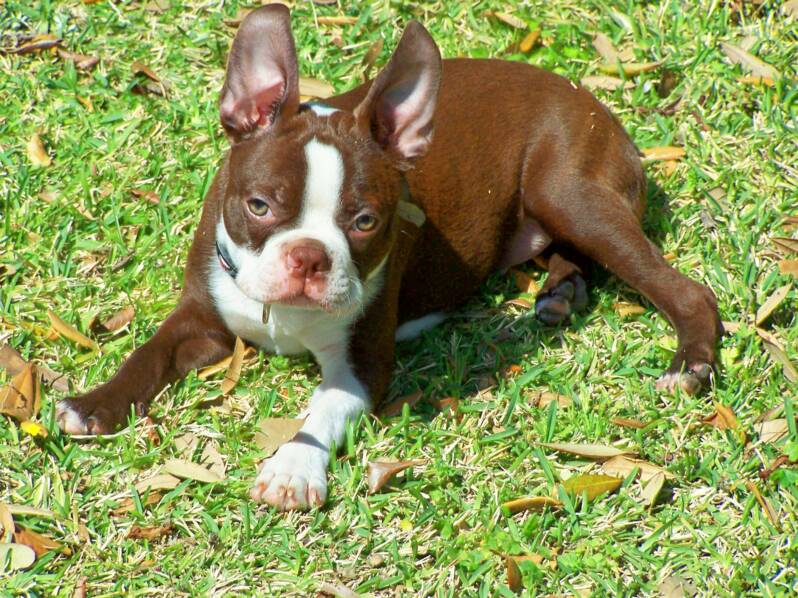 Hi Tommie.  Sorry I haven't given you an update on Boudreaux lately.  He is doing very well and growing into a beautiful dog.  He weighs almost 11 pounds now.  We went to the vet last week and she said he was almost a perfect specimen of the Boston Terrier breed.  She suggested that I may want to breed him.  There are not many Bostons in this area with his coloring.  For a matter of fact she only knew of one other lady that even had a seal colored one.  Just so happens the ladies daughter works for the vet.  She called her mother while we were there to tell her mother she had to see Boudreaux.  The lady was in town and came right on.  She could not believe how pretty he was.  He draws lots of attention where ever he goes which is pretty much where ever I go.  He still goes to work with me everyday and all of my customers that come to the office know him by name and play with him.  He is spoiled rotten.  If I have to go anywhere that he can't go he stays with Aunt Sissy.  She is just as crazy about him as I am.  The kids are really enjoying him.  The weather has been really pretty all week and they have all been playing outside.  He still nips them from time to time but he is getting better about it.  Marvin came home for a few days in February and Boudreaux stole his heart also.  He looked for Marvin for a week after he left.  He would go from room to room looking and come back and lay in front of Marvin's recliner.  It does not take him long to become really attached to someone.  He is a really loving little dog.  While we were playing outside this week he had his first encounter with another dog.  My neighbors have a little rat terrier who wandered over to see what we were all doing to have so much fun outside.  Boudreaux did not like the idea of another dog in our yard at all and chased him all the way back to the neighbors porch.  When he put him back in his place he turned around and proudly trotted back across the yard and went back to playing with the kids.  He appeared to be very proud of himself.  I think he thought he was protecting all of us.  We are enjoying him very much and he is very much a part of our family.  Thanks again Tommie for raising such good and healthy puppies.  I will recommend you to anyone who is looking for Bostons.  I am attaching a picture of Boudreaux for you.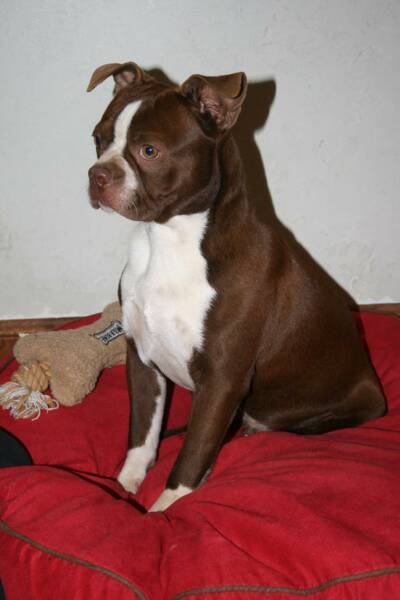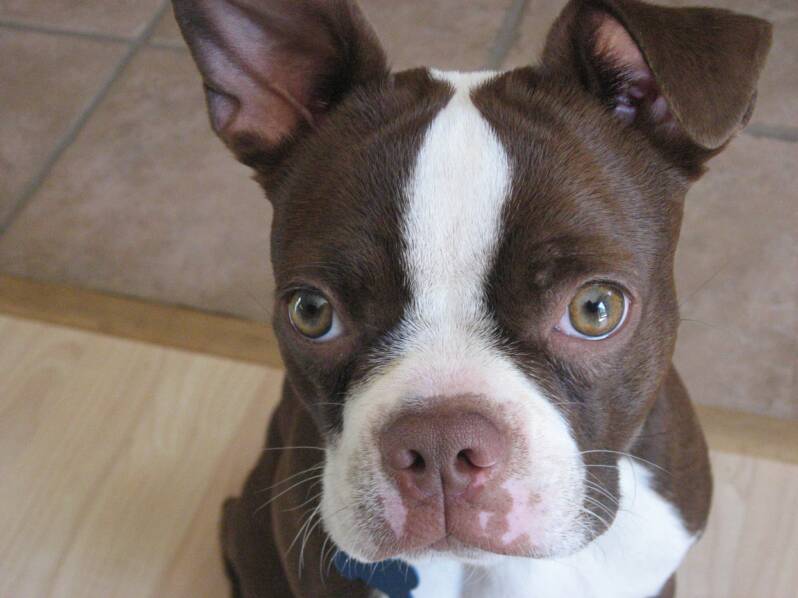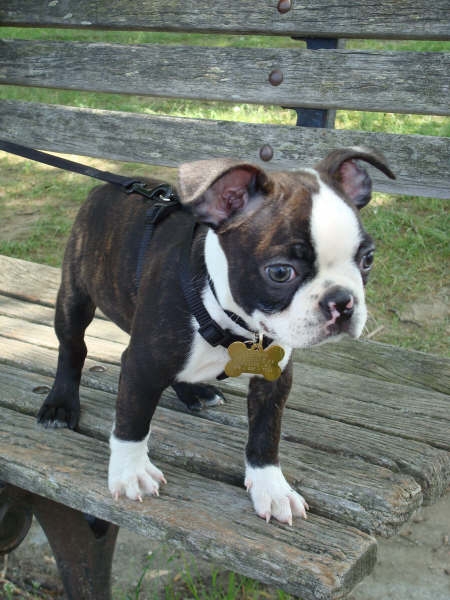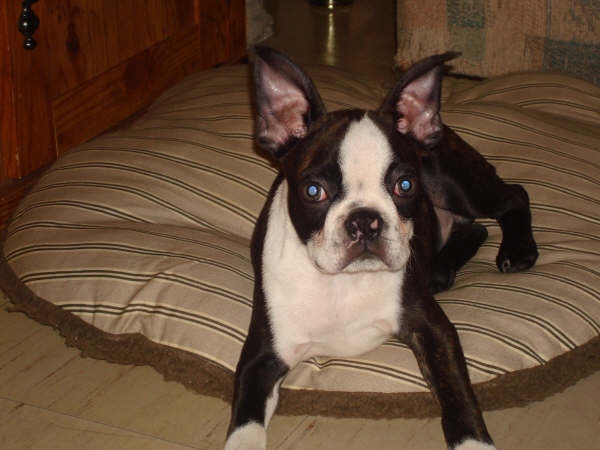 Remington

When he left our home and now in his new home!!

May 2007

Hi Tommie,  Just a little update, Hana is doing very well, We have been camping alot this summer, and she loves it.  At most of the camp grounds they want dogs on leashes at all times, but we tried to give her some freedom and she did very well, people walking past with and without dogs could not get over how well behaved she was, that she would just sit and watch everyone go by without moving.      Annette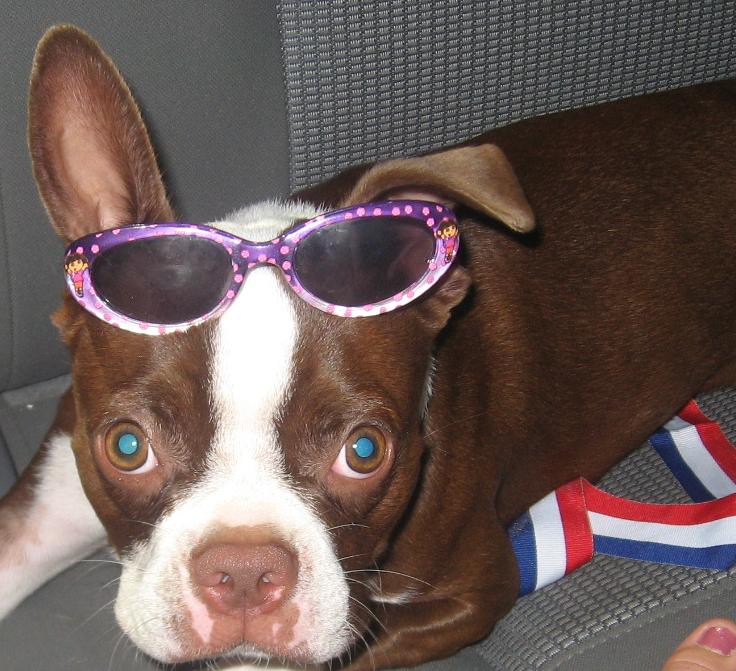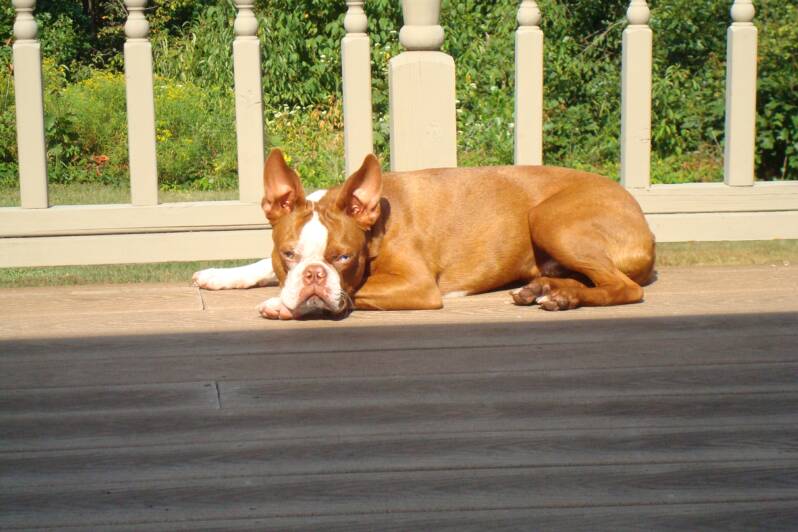 Hi Tommie, 

    You were right about him, he is full of it. It took him a couple of days to get used to us. The first night he went to bed in his carrier. The second night Jim said let him stay out with us and will see how he does. Well ever since that night Keagan feels as though he doesnt belong in there at night and now has his own pillow right between jim and I in bed. We only have one problem with him that I dont know if you were aware of. Keagan has a hudge sock fetish. We found this out the night we were matching all of our socks. He had about 20 socks out under the kitcken table. We had to take him up to the vets on Tuesday. He was playing with Kahula and all of a sudden he started yelping. We rushed him up to the vets. The way he was carring on it sounded like he broke his leg. After all the x-rays and my vet checked him out ,the vet looked at me and said Im sorry to say but you have yourself a drama king. The doc said he pulled a muscle. The vet said when he had him in the room he didnt make a sound. As soon as we got out into the car.

 His leg was up in the air. If he doesnt see you he 

walks fine, but as soon as you say Does keagan 

have a BOo Boo that leg is hurting again. He is 

something else. He gets along perfect with everyone.

 I can only spend time with him when jim is at work,

 as soon as Jim gets home hes a daddy's boy. 

His ears are standing up now and as far as going 

potty outside he is doing wonderful.  Anyway I just 

wanted to let you know that we love him and thank 

you so much.   Alycia and Family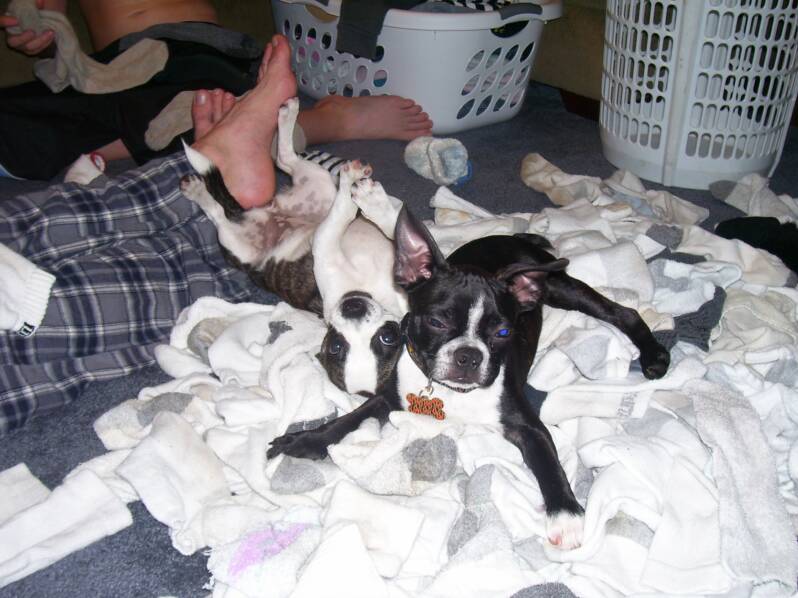 Hi Tommie, 

Just saw your ad on puppy find and wanted to drop you a line, and tell you that I am so happy with Teddy.  He is a gorgeous guy, I think he looks a lot like his mom.  He has those big ears.  Everyone that sees him thinks that he is a girl, everyone says that he is just too pretty to be a male.  He is a joy to have and I wouldn't trade him for the world. He hurt his eye somehow, so Ive been taking him to the vet to get it cleared up.  It has taken us about a month to get it healed, but its almost well now.  He may end up with a small scar on his cornia, but doesn't seem to notice it.  He has been a trooper.  Everyone fell in love with him at the vet's office.  He is so proud, he carries himself very proud and looks like he is all decked out in a tux.  I tried to send pics, but couldn't get them to send.  comp. probs. I guess??  Thanks for allowing me to adopt Teddy, we love him very much and he thinks he is a supper stud.  Thanks, Gina Edwards from Rush Springs, OK

Hi Tommy, Just wanted to let you know. Cupcake is great and doing well. She Turned one year July 1st and weighs 17lbs. My kids love her. She loves being out doors and some times wont come back inside. Cupcake can't get enough walks in the woods and swimming. She is so much fun. Thank You. Dina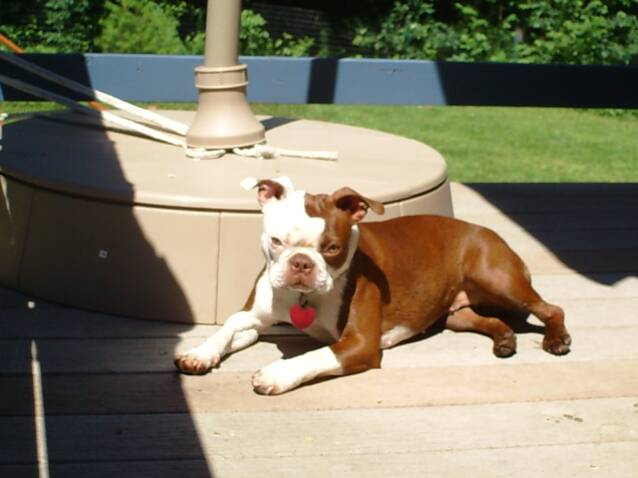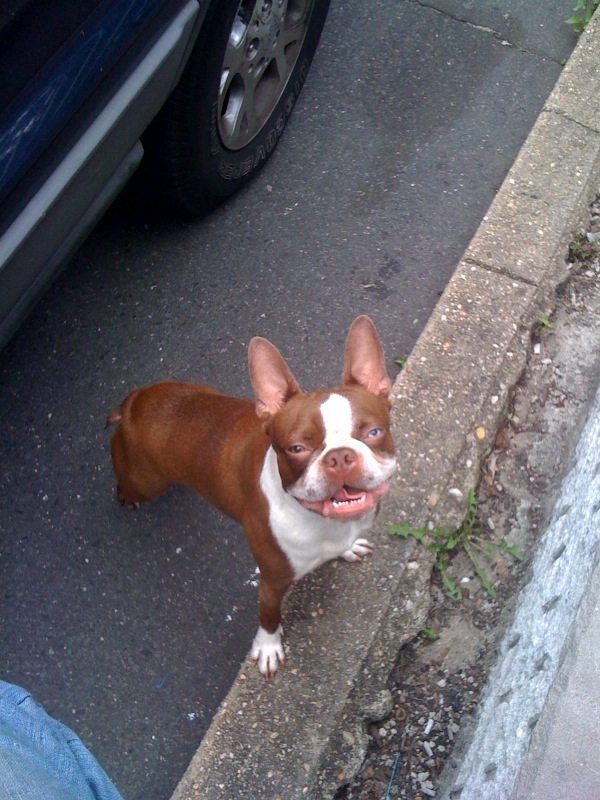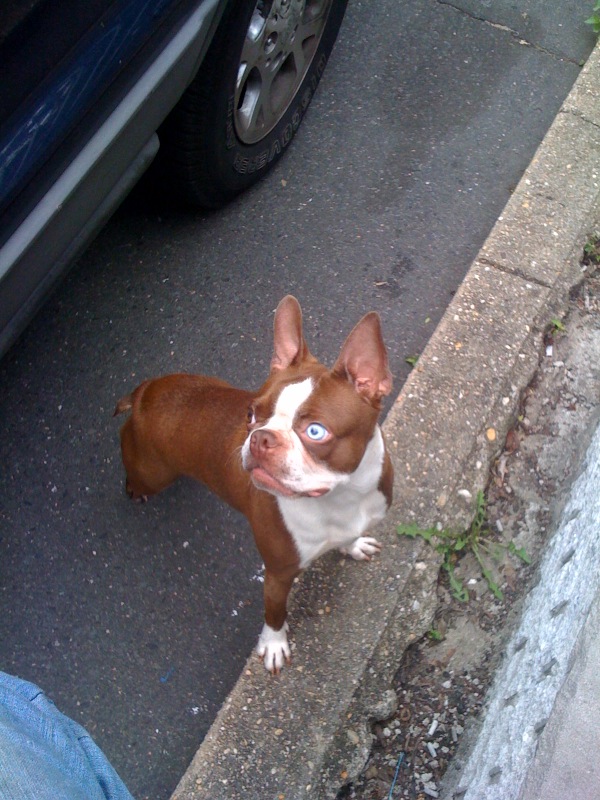 Calie

Isn't she beautiful!!!

Her parents are Chuck and Cheri our red/white Bostons. Her half-siblings/siblings listed on here are Domino, Boudreaux, Spicy and Cupcake

Hello Tommie,

 Teddy is awsome, he is a beautiful color of red (Flaming Red Ted)...........lol......

No really, Teddy is so awsome, we love him so much and he makes a wonderful sire.  Teddy is a daddy now and there were 3 beautiful red puppies in the litter.  Teddy is such a prancer, he is so handsome and Stoic.  Wanted to send you some pics of him so you could see how nice he turned out.   

Thanks, Gina - Josh - Dustin Edwards

 Rush Springs, Oklahoma    9-1-09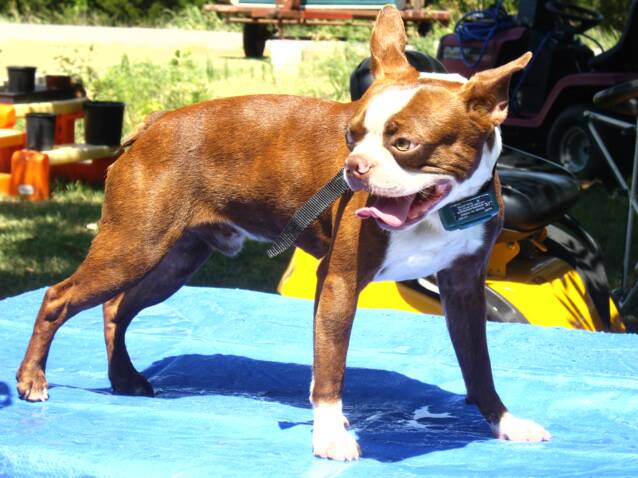 Hello Tommie:

Just wanted to let you know that my little guy Marcus (now called "Rocky" is doing well.  I love him so much.  He and my other two boys Tyler (Shi-Poo) and Toby (Pomeranian) is getting along well.  It took a while for Tyler, being he is much older.  Rocky is a sharp little fellow and very well loved.  He is getting better with house-breaking.  Sometimes has an accident.  But he follows the other two dogs.  He likes to cuddle in my arms or often sleeps next to Toby.  

Carlotta in IL   December 2009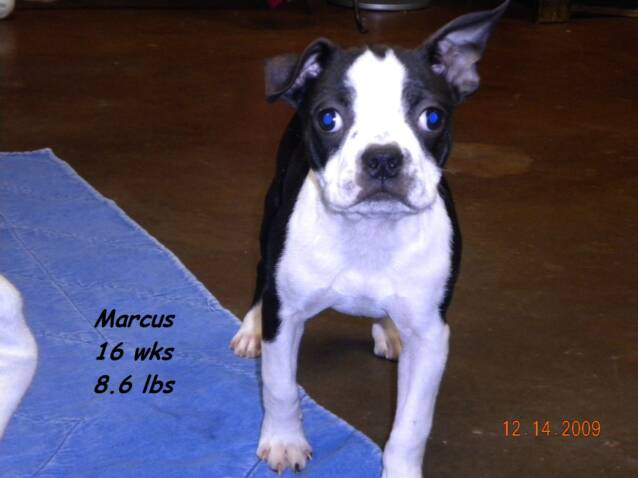 Hi Tommie,

I just wanted to let you know how much we LOVE our new little girl!  She is just the sweetest thing!!  Very cuddly and very BOSSY!!!  Her big brother absolutely adores her and she follows him around wherever he goes, they are inseparable!  Two completely different personalities which mesh perfectly.  We cannot thank you enough for this bouncy little love bug.

Will send more pictures later!  

Laura P. in CA  Dec 2009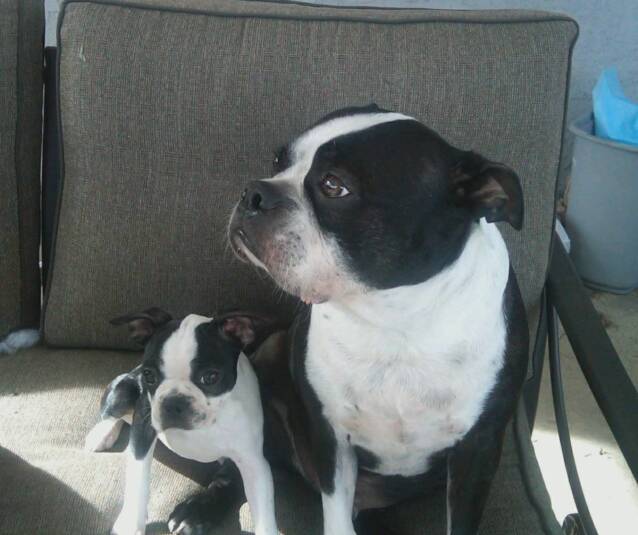 Hi Tommie,

Hope this finds you doing well and enjoying the summer! Just wanted to send you an update on Warren (Hawkeye) as he is 6 months old!  We'll lets just say we have fallen head over heels in love with our little man! He has a BIG personality and has been a perfect match for us! He went on his first river trip before he turned 6 months! Since Boston's are not typically "water dogs" we have been taking him to the lake by our house all through the summer ... while he doesn't voluntarily jump in the water,  he is a great swimmer when he gets in (with a little help)! His time on the lake proved to be beneficial, when we were on the river, he was totally comfortable and did

a lot of voluntary jumping in and swimming!  While he is great in the water ... it is in the mountains that we truly see Warren in his element. He loves to scramble and climb over rocks! He is hard to keep up with :)

He is almost 17 lbs and a happy camper! Thanks so much for all you've done and making it possible for Warren to come to Idaho! I highly recommended you to everyone I talk too and I have a feeling this will not be your last dog sent to Idaho :)

Thanks Tommie! Enjoy the photos! 

Cheers, Meg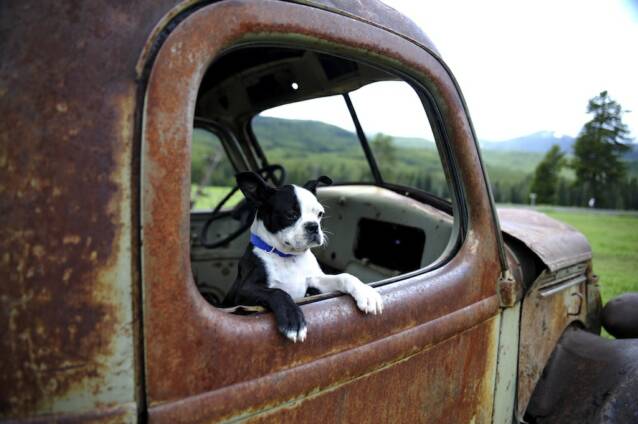 Tommie,

 Just wanted to let you know that Paddi is doing wonderfully.  We have had a full summer and she has been with us every step of the way.  We participate in a lot of outdoor activities and she is happy to go in her doggie backpack and climb a mountain, ride a bike, or enjoy the ocean.  She is delightful and entertaining.  We couldn't be happier to have her as our fur-child/fur-sister.  She is bright and intelligent.  She learns very quickly. She plays hide and seek, catch, and even rings a bell to let us know when she wants to go outside. I couldn't even begin to tell you all the joy she has brought to us.  I have attached a picture of her here just so you can see how beautiful she is :)

 Sharleen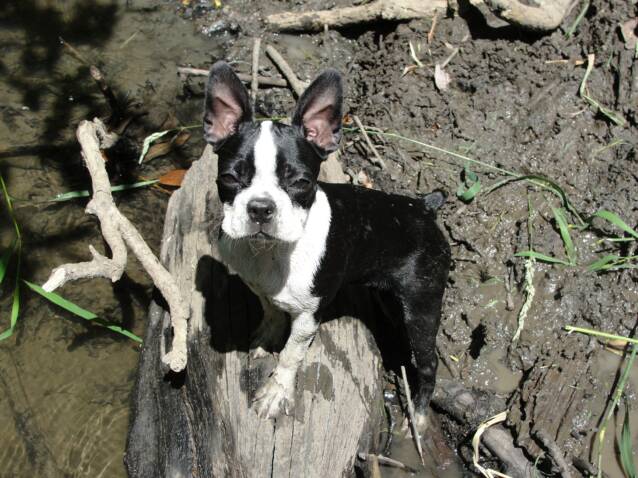 Hello!! 

  I just wanted to let you know I have received my little girl safe and sound!  She is just the sweetest thing.

  Thank you for ALL  your help.  I will keep you posted on her as she grows!  

  Regards, 

 Rebecca F in PA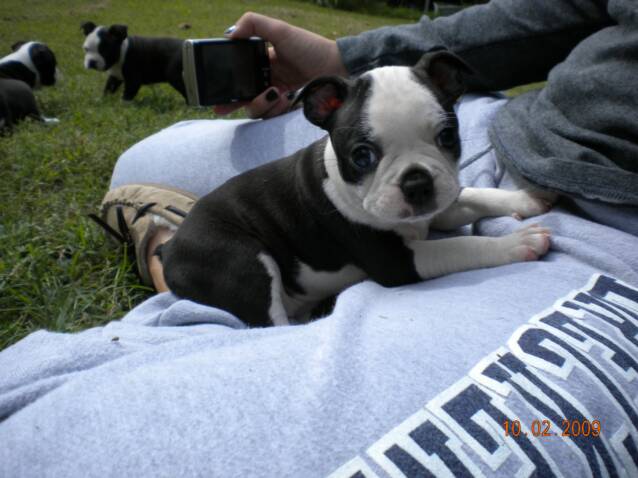 CHERRI and CHUCK litter

Not shown Beau and Tabasco

Past puppies from CHERRI and CHUCK

Past litter of CHERRI and CHUCK

Past puppy from COCO and CHUCK

Past puppy from

CAYLEA and CHUCK

KEESHA and LIL MAN litter

KEESHA and LIL MAN  litter

Past puppy 

COCO 

and 

CHUCK

Past puppy  COCO  and  CHUCK

Past puppy  COCO  and  CHUCK